Winter weather might have you thinking about heading to the mountains or hunkering down under the covers, but it has us planning for the 2022 season! We're excited about the trends emerging in landscape design. Here's our list of the top five trends we expect to see in the upcoming year.
1. High-end Hardscape
These ideas are set in stone and they're beautiful! From natural stones to large format manufactured porcelain tiles, the newest finishes for outdoor structures and patios rival indoor finishes. We anticipate more bold ideas in hardscape this next year.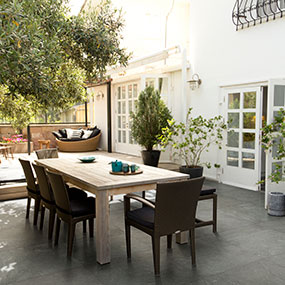 Many homeowners are choosing stone for its beautify and timelessness. Options range from granite to marble to sandstone for flooring, countertops and even accent walls.
Another new trend is the inside/outside look of continuing indoor flooring to your outdoor patio, which can be seamlessly achieved with porcelain tiles.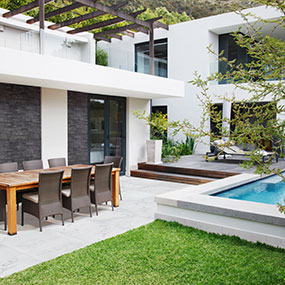 Water features create a visual and auditory delight and a place for your body and mind to reenergize. In 2019, we expect to see more water features, and complementary fire elements to create a destination of relaxation.
3. Extension of Indoor Living Space
We expect to see more indoor/outdoor living in 2022. From indoor gardens that extend outdoors, to hardscape materials that compliment indoor décor, outdoor living has become a seamless continuation of life indoors.
Multi-level spaces create a "room effect" and allow for private places to relax and retreat. Using a variety of high-quality materials, including hardscapes and modern lighting helps to create a design more reflective of a home's architecture and distinct characteristics.
Creativity and functionality are key when designing outdoor kitchens. Trends in outdoor kitchens include sinks, usable counter space, built-in grills and bar seating.
Other trends in outdoor kitchens include creating shelter over the kitchen area, modern lighting, and fun options like pizza ovens and kegerators. Would you ever want to come back inside?
5. A Statement Piece
Adding a creative personal touch brings a sense of connectedness to outdoor spaces and often becomes a focal point for gatherings. Creative designs often use water features or fire pits to entice the senses. A statement piece can add a spunky touch like a set of swings, a shed retreat, or a distinctive bar. Using a decorative outdoor privacy screen and lighting can make an artistic statement in a small space.